BD Accuri™ C6 Plus Cytometer 流式細胞儀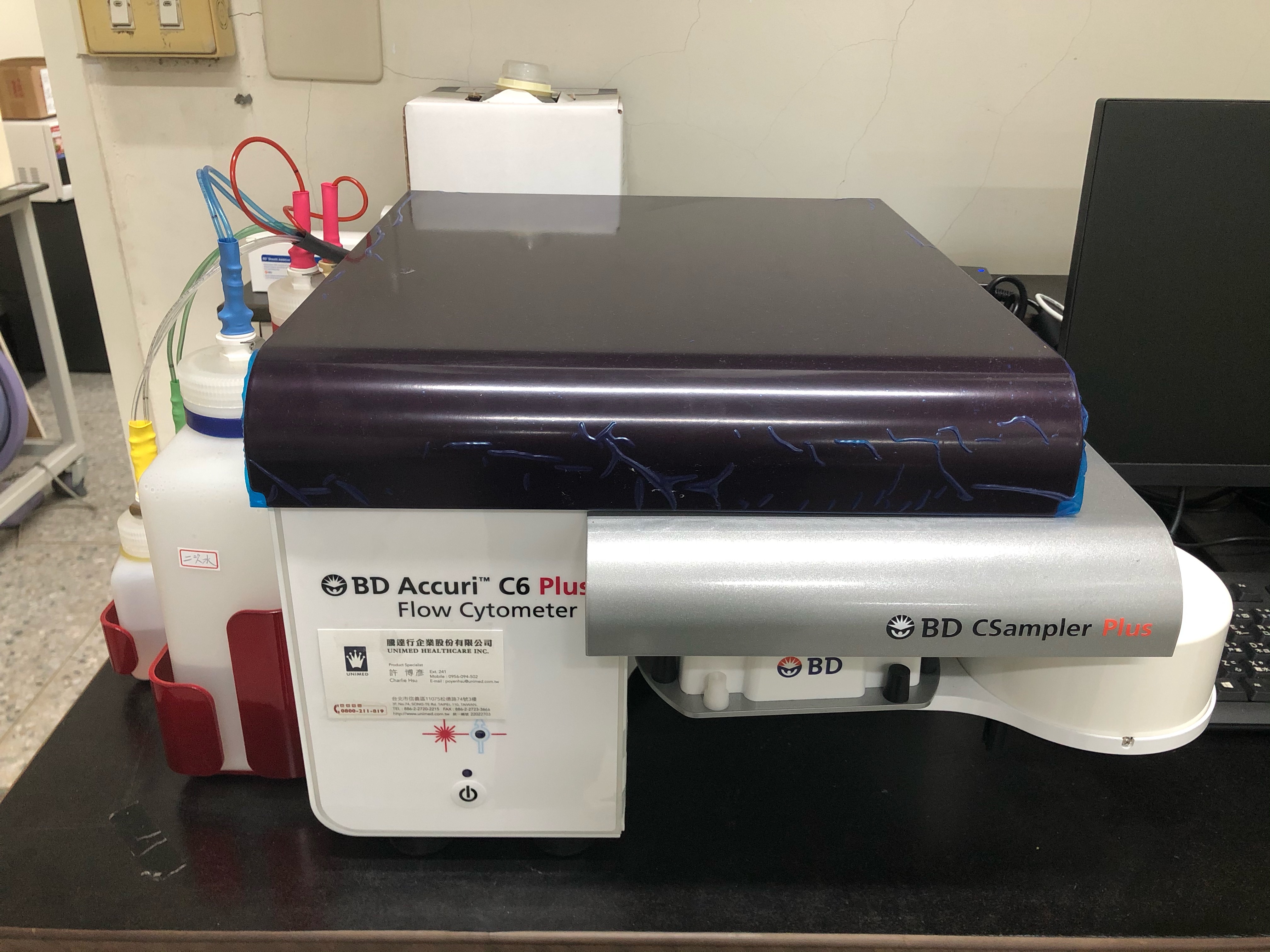 【Location】MB5004
【Functions and Specifications】
1. The instrument is equipped with two laser tubes: blue (488 nm) and red (640 nm). There are 4 filters in total, which can detect four channels of fluorescence: FL1 (533/30 nm), FL2 (585/40 nm), FL3 (>670 nm) and FL4 (675/25 nm).
2. There is an automatic sample loading tray, which can be set to automatic loading. And you can use the eppendorf tubes directly on the machine.
3. The machine can accurately calculate the injection volume, so the absolute cell count can be performed without using beads.
4. The voltage value of the machine is fixed and cannot be adjusted by ourselves.
5. The analysis software does not need a serial number and can be installed on any computer. Users can save the data and perform data analysis on their own computer.
Flow cytometer can be used for cell cycle analysis, cell apoptosis, cell morphology, intracellular pH measurement, intracellular calcium ion concentration measurement. And also the application in oncology, immunology, hematology, pharmacology, etc.
【Important Notes for Instrument Usage】
● How to Apply
1. Qualifications: Only those who have participated in the operation workshop can apply.
2. Operational lectures: Held irregularly by the center, usually once every academic year.
● Usage Rules
1. Before using the instrument, please reserve the time you want to use on the online reservation system.
2. After using instrument, please complete the cleaning steps of the instrument (including several wash steps) and keep the instrument table clean. Remember to fill in the log book after use.
3. If there is any difficulty in operation, feel free to seek help from manager. If the instrument is damaged due to improper operation, the maintenance fee shall be paid.
【Charges】
| | | |
| --- | --- | --- |
| User Affiliation | Daytime Use(Weekdays 9:00-18:00) | Nighttime Use |
| Users of this department | Free | Not available |
| Other department of National Sun Yat-sen University | $150/1 hour | Not available |
| Off-Campus | $300/1hour | Not available |
【Contact Information】
Research Assistant
Pin-lun, Lin
TEL:(07) 525-2000 ext 5026
【Attached files】